More than 40,000 in print!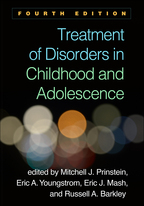 Treatment of Disorders in Childhood and Adolescence
Fourth Edition
Hardcover
Paperback
e-book
print + e-book
Hardcover
May 15, 2019
ISBN 9781462538980
Price: $105.00
928 Pages
Size: 7" x 10"
order
Paperback
May 19, 2021
ISBN 9781462547715
Price: $55.00
928 Pages
Size: 7" x 10"
order
Check out a special package offer including this title!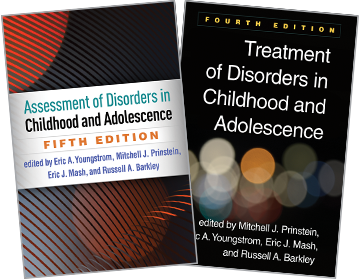 ---
Read a Q&A
with featured author, Russell A. Barkley!
---
Sign up for
e-alerts
on upcoming titles by Russell A. Barkley (with special discounts)!
---
New to this edition:
All chapters are new, reflecting over a decade of clinical and empirical developments.
Chapters on additional clinical issues: bipolar disorder, suicidal and nonsuicidal self-injury, obsessive–compulsive disorder, infant and toddler problems, posttraumatic stress disorder, coping and emotion regulation, bereavement, early-onset schizophrenia, personality disorders, childhood obesity, and sleep problems.
Chapters on case conceptualization and evidence-based therapist flexibility.
Illustrative case examples and transcripts added throughout.
Updated for DSM-5; every chapter also considers transdiagnostic and dimensional issues.