Bestselling Practitioner Guide and Text
More than 140,000 in print!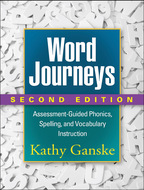 Word Journeys
Second Edition
Assessment-Guided Phonics, Spelling, and Vocabulary Instruction
Hardcover
Paperback
e-book
print + e-book
Hardcover
November 25, 2013
ISBN 9781462533626
Price: $96.00 $72.00
420 Pages
Size: 8" x 10½"
order
Paperback
November 26, 2013
ISBN 9781462512508
Price: $46.00 $34.50
420 Pages
Size: 8" x 10½"
order
Check out a special package offer including this title!

Professors: free copies available for adoption consideration
Download an e-book copy now or order a print copy
---
New to this edition:
Addresses the Common Core State Standards.
Incorporates additional activities and technology tips, plus updated research findings.
Chapter explaining the meaning of word study and its role in literacy instruction, including "Researcher Voices" perspectives from noted experts.
Ideas for making the most of small-group instructional time.
Expanded "Literature Links" book lists, now including informational texts.
DSA answer sheets have been enhanced for easier scoring and several new reproducibles added.