Bestselling Practitioner Guide and Text
More than 40,000 in print!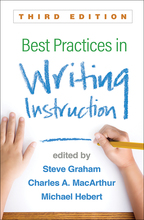 Create flyer
Best Practices in Writing Instruction
Third Edition
Hardcover
Paperback
e-book
print + e-book
Hardcover
December 26, 2018
ISBN 9781462537976
Price: $68.00
416 Pages
Size: 6" x 9"
order
Paperback
December 27, 2018
ISBN 9781462537969
Price: $45.00
416 Pages
Size: 6" x 9"
order
---
W

ell established as a definitive text—and now revised and updated with eight new chapters—this book translates cutting-edge research into effective guidelines for teaching writing in grades K–12.

Illustrated with vivid classroom examples, the book identifies the components of a complete, high-quality writing program. Leading experts provide strategies for teaching narrative and argumentative writing; using digital tools; helping students improve specific skills, from handwriting and spelling to sentence construction; teaching evaluation and revision; connecting reading and writing instruction; teaching vulnerable populations; using assessment to inform instruction; and more.

New to This Edition
Chapters on new topics: setting up the writing classroom and writing from informational source material.
New chapters on core topics: narrative writing, handwriting and spelling, planning, assessment, special-needs learners, and English learners.
Increased attention to reading–writing connections and using digital tools.
Incorporates the latest research and instructional procedures.
See also
Handbook of Writing Research, Second Edition
, edited by Charles A. MacArthur, Steve Graham, and Jill Fitzgerald, which provides a comprehensive overview of writing research that informs good practice.