New Edition of a Bestselling Clinical Guide and Text
More than 90,000 in print!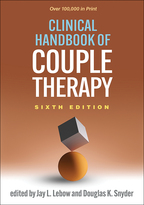 Clinical Handbook of Couple Therapy
Sixth Edition
Hardcover
e-book
print + e-book
Hardcover
October 21, 2022
ISBN 9781462550128
Price: $110.00
728 Pages
Size: 7" x 10"
pre-order
---
The new edition will be published October 21, 2022. If you need this title before then, please see the
previous edition
.
---
Professors: Do you need to make an adoption decision or update your syllabus for the next term?
Request a set of page proofs
now for immediate review.
---
Robert Allan, PhD,
School of Education and Human Development, University of Colorado Denver, Denver, CO
Samuel H. Allen, PhD,
The Family Institute at Northwestern, Northwestern University, Evanston, IL
Christina Balderrama-Durbin, PhD,
Binghamton University, State University of New York, Binghamton, NY
Donald H. Baucom, PhD,
University of North Carolina at Chapel Hill, Chapel Hill, NC
Steven R. H. Beach, PhD,
Center for Family Research and Department of Psychology, University of Georgia, Athens, GA
Efrain Bleiberg, MD,
The Menninger Department of Psychiatry and Behavioral Sciences, Baylor College of Medicine, Houston, TX
Kristin Bolton, PhD,
School of Social Work, University of North Carolina Wilmington, Wilmington, NC
Douglas C. Breunlin, MSSA,
The Family Institute at Northwestern, Northwestern University, Evanston, IL
Will H. Canu, PhD,
Appalachian State University, Boone, NC
Ryan G. Carlson, PhD,
University of South Carolina, Columbia, SC
Anthony L. Chambers, PhD,
The Family Institute at Northwestern, Northwestern University, Evanston, IL
Andrew Christensen, PhD,
University of California, Los Angeles, Los Angeles, CA
Aaron Samuel Cohn, PhD,
The Family Institute at Northwestern, Northwestern University, Evanston, IL
Gene Combs, MD,
Evanston Family Therapy Center, Evanston, IL
Deb Coolhart, PhD,
Marriage and Family Therapy Department, Syracuse University, Syracuse, NY
Joanne Davila, PhD,
Stony Brook University, Stony Brook, NY
Sean Davis, PhD,
California School of Professional Psychology, Alliant International University, Sacramento, CA
Sona Dimidjian, PhD,
Crown Institute and Department of Psychology and Neuroscience, University of Colorado Boulder, Boulder, CO
Brian D. Doss, PhD,
University of Miami, Miami, FL
Elizabeth E. Epstein, PhD,
University of Massachusetts Chan Medical School, Worcester, MA
Norman B. Epstein, PhD,
School of Public Health, University of Maryland, College Park, MD
Melanie S. Fischer, PhD,
Philipps-Universität Marburg, Marburg, Germany
Mona DeKoven Fishbane, PhD,
Chicago Center for Family Health, Chicago, IL
Peter Fonagy, PhD,
University College London, London, UK
Peter Fraenkel, PhD,
The City College of New York, New York, NY
Cynthia Franklin, PhD,
Steve Hicks School of Social Work, The University of Texas at Austin, Austin, TX
Steffany J. Fredman, PhD,
The Pennsylvania State University, University Park, PA
Jill Freedman, MSW,
Evanston Family Therapy Center, Evanston, IL
Elana B. Gordis, PhD,
University at Albany, State University of New York, Albany, NY
Kristina Coop Gordon, PhD,
University of Tennessee, Knoxville, TN
John Mordechai Gottman, PhD,
The Gottman Institute, Seattle, WA
Julie Schwartz Gottman, PhD,
The Gottman Institute, Seattle, WA
Kathryn S. K. Hall, PhD,
private practice, Princeton, NJ
Cathryn Glanton Holzhauer, PhD,
University of Massachusetts Chan Medical School, Worcester, MA
Sabrina Johnson, EdS,
University of South Carolina, Columbia, SC
Susan M. Johnson, EdD,
International Centre for Excellence in Emotionally Focused Therapy, University of Ottawa, Ottawa, Ontario, Canada
Lana Kim, PhD,
Graduate School of Education and Counseling, Lewis & Clark College, Portland, OR
Jennifer S. Kirby, PhD,
University of North Carolina at Chapel Hill, Chapel Hill, NC
Bob G. Knight, PhD,
School of Psychology and Counselling, University of Southern Queensland, Toowoomba, Queensland, Australia
Kayla C. Knopp, PhD,
University of California, San Diego, La Jolla, CA
Carmen Knudson-Martin, PhD,
Graduate School of Education and Counseling, Lewis & Clark College, Portland, OR
Jaslean J. LaTaillade, PhD,
JBS International, Inc., North Bethesda, MD
Erika Lawrence, PhD,
The Family Institute at Northwestern, Northwestern University, Evanston, IL
Jay L. Lebow, PhD, ABPP, LMFT,
The Family Institute at Northwestern, Northwestern University, Evanston, IL
Gayla Margolin, PhD,
University of Southern California, Los Angeles, CA
Howard J. Markman, PhD,
University of Denver, Denver, CO
Christopher R. Martell, PhD,
Psychological Services Center, University of Massachusetts Amherst, Amherst, MA
Barbara S. McCrady, PhD,
University of New Mexico, Albuquerque, NM