Bestselling Clinical Guide and Text
More than 275,000 in print!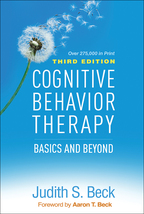 Create flyer
Cognitive Behavior Therapy
Third Edition
Basics and Beyond
Hardcover
e-book
print + e-book
Hardcover
October 7, 2020
ISBN 9781462544196
Price: $62.00
414 Pages
Size: 6" x 9"
order
---
New to this edition:
Chapter on the therapeutic relationship.
Chapter on integrating mindfulness into treatment.
Presents recovery-oriented cognitive therapy (CT-R)—which emphasizes clients' aspirations, values, and positive adaptation—alongside traditional CBT.
Pedagogical features: clinical tips, reflection questions, practice exercises, and videos at the companion website.
New case examples featuring clients with more complex problems.
Demonstrates how to integrate strategies from other modalities, such as acceptance and commitment therapy, dialectical behavior therapy, and mindfulness-based cognitive therapy.