More than 80,000 in print!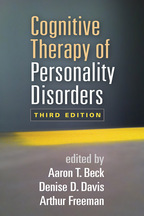 Create flyer
Cognitive Therapy of Personality Disorders
Third Edition
Hardcover
Paperback
e-book
print + e-book
Hardcover
October 8, 2014
ISBN 9781462517923
Price: $98.00
506 Pages
Size: 6" x 9"
order
Paperback
November 17, 2015
ISBN 9781462525812
Price: $48.00
506 Pages
Size: 6" x 9"
order
---
Aaron T. Beck
, MD, until his death in 2021, was University Professor Emeritus of Psychiatry at the University of Pennsylvania and President Emeritus of the Beck Institute for Cognitive Behavior Therapy. Internationally recognized as the founder of cognitive therapy, Dr. Beck has been credited with shaping the face of American psychiatry, and was cited by
American Psychologist
as "one of the five most influential psychotherapists of all time." Dr. Beck was the recipient of awards including the Albert Lasker Clinical Medical Research Award, the Lifetime Achievement Award from the American Psychological Association, the Distinguished Service Award from the American Psychiatric Association, the James McKeen Cattell Fellow Award in Applied Psychology from the Association for Psychological Science, and the Sarnat International Prize in Mental Health and Gustav O. Lienhard Award from the Institute of Medicine. He authored or edited numerous books for professionals and the general public.
Denise D. Davis
, PhD, is Associate Professor of the Practice of Psychology at Vanderbilt University, where she is Associate Director of Graduate Training in Clinical Science. She is a Founding Fellow, Diplomate, and certified Trainer and Consultant of the Academy of Cognitive and Behavioral Therapies. Dr. Davis was the founding Associate Editor of the journal
Cognitive and Behavioral Practice
prior to serving the first full term as that journal's Editor. Her research and clinical interests include ethics, psychotherapy termination, and cognitive therapy of personality disorders.
Arthur Freeman
, EdD, LLD (h.c.), ABPP, until his death in 2020, was Professor Emeritus of Psychology at the Philadelphia College of Osteopathic Medicine. A leading expert on cognitive-behavioral therapy, he was a past president of the Association for Behavioral and Cognitive Therapies and of the International Association for Cognitive Psychotherapy, and a Distinguished Founding Fellow of the Academy of Cognitive and Behavioral Therapies. Dr. Freeman's research and clinical interests included marital and family therapy and cognitive-behavioral treatment of depression, anxiety, and personality disorders. The author of over 100 chapters and articles, he lectured in 45 countries and his work has been translated into 20 languages.