Dialectical Behavior Therapy for Binge Eating and Bulimia
Hardcover
Paperback
e-book
print + e-book
Hardcover
May 20, 2009
ISBN 9781606232651
Price: $92.00
244 Pages
Size: 7" x 10"
order
Paperback
February 3, 2017
ISBN 9781462530373
Price: $30.00
244 Pages
Size: 7" x 10"
order
Check out a special package offer including this title!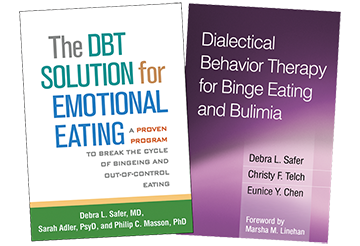 ---
Sign up for
e-alerts
on upcoming titles on Dialectical Behavior Therapy (with special discounts)!
---
The
reproducible materials
can be downloaded and printed in PDF format.
---
Debra L. Safer
, MD, ABPN, is Assistant Professor in the Department of Psychiatry and Behavioral Sciences at Stanford University Medical Center. Dr. Safer attended medical school at the University of California, San Francisco, followed by a residency in psychiatry at Stanford University. Her postdoctoral fellowship was also at Stanford, where she worked closely with W. Stewart Agras, MD, and his eating disorders research team. Dr. Safer's research and clinical work focus on treating eating disorders in adults and adolescents utilizing DBT and other empirically validated treatments.
Christy F. Telch
, PhD, is in private practice in Palo Alto, California. Dr. Telch obtained her PhD in counseling psychology from Stanford University. She joined Stanford's Department of Psychiatry and Behavioral Sciences, where she established a national reputation for her research on eating disorders. In 1997, Dr. Telch received a grant from the National Institute of Mental Health to adapt DBT for the treatment of binge-eating disorder. Her subsequent research and treatment manual,
Emotion Regulation Skills Training Treatment for Binge Eating Disorder
, are the basis for this book.
Eunice Y. Chen
, PhD, is Assistant Professor in the Department of Psychiatry and Behavioral Neurosciences at the University of Chicago, where she runs a DBT program for adults with eating disorders. Dr. Chen received her PhD in clinical psychology from the University of Sydney, Australia. She subsequently completed postdoctoral fellowships at Yale University and at the University of Washington, with Marsha M. Linehan, PhD.