Bestselling Clinical Guide and Text
More than 65,000 in print!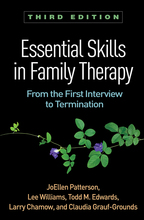 Create flyer
Essential Skills in Family Therapy
Third Edition
From the First Interview to Termination
Hardcover
e-book
print + e-book
Hardcover
January 25, 2018
ISBN 9781462533435
Price: $52.00
333 Pages
Size: 6" x 9"
order
---
Sign up for
emails
on upcoming titles on Families & Couples (with special discounts)!
---
M
any students and beginning clinicians have relied on this engaging, authoritative text—now revised and expanded—to hit the ground running in real-world clinical practice. Focusing on what works, the authors show how to flexibly draw on multiple theories and techniques to conduct comprehensive assessments, develop collaborative treatment plans, and intervene effectively for frequently encountered clinical concerns. Mental health skills needed by all therapists are interwoven with state-of-the-art family therapy knowledge. Illustrated with instructive case examples and vignettes, the book helps the reader navigate typical dilemmas and troubleshoot when treatment gets "stuck."
New to This Edition
Discussions of addictive behaviors (pornography, gambling, video games, social media); children's brain development; premarital counseling; divorce therapy; preventing premature terminations; and uses of technology in clinical practice.
Chapter on working with older adults and their caregivers.
Revised throughout with current research and evidence-based practice recommendations.
Extensively rewritten chapter on treatment planning.
Chapter-opening vignettes, plus new and revised case examples throughout.
New assessment resources, including an Appendix on screening instruments.
See also the authors'
Essential Assessment Skills for Couple and Family Therapists
, which shows how to weave assessment into all phases of therapy, and
Clinician's Guide to Research Methods in Family Therapy
.