Handbook of Personality Development
Hardcover
Paperback
e-book
print + e-book
Hardcover
February 27, 2019
ISBN 9781462536931
Price: $105.00
623 Pages
Size: 7" x 10"
order
Paperback
April 2, 2021
ISBN 9781462547739
Price: $55.00
623 Pages
Size: 7" x 10"
order
Check out a special package offer including this title!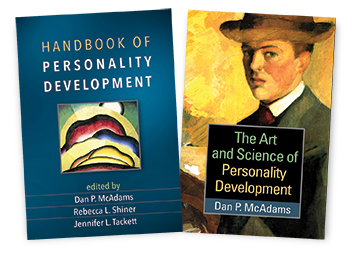 ---
Dan P. McAdams
, PhD, is the Henry Wade Rogers Professor of Psychology and Professor of Education and Social Policy at Northwestern University. Past president of the Association for Research in Personality, he is a recipient of the Henry A. Murray Award for the study of lives and the Jack Block Award for career contributions from the Society for Personality and Social Psychology (SPSP), Division 8 of the American Psychological Association (APA); the Theodore Sarbin Award from APA Division 24 (Theoretical and Philosophical Psychology); and the William James Book Award from APA Division 1 (General Psychology). Dr. McAdams's research focuses on concepts of self and identity in contemporary American society and on themes of power, intimacy, redemption, and generativity across the adult life course. He has published nearly 300 scientific articles and chapters and numerous books, including, most recently,
Handbook of Personality Development
and
The Art and Science of Personality Development
.
Rebecca L. Shiner
, PhD, is Professor of Psychology at Colgate University. Her research centers on temperament and personality trait development in children, adolescents, and young adults, including structure, stability and change, and links to positive life outcomes and the emergence of psychopathology. She was a consultant to the DSM-5 Personality Disorders Work Group, served as Executive Officer of the Association for Research in Personality, and is a past associate editor of the
Journal of Personality and Social Psychology
and the
Journal of Personality
. Dr. Shiner has held many leadership roles at Colgate University, including Psychology Department Chair and Director of the Residential Commons.
Jennifer L. Tackett
, PhD, is Associate Professor of Psychology and Director of Clinical Training at Northwestern University. Her research focuses on child and adolescent personality and externalizing and disinhibitory psychopathology in youth. Much of her work emphasizes assessment, measurement, and construct validation approaches. Dr. Tackett is the recipient of early career awards from the Society for Personality Assessment, the Society for Research in Psychopathology, and the Ontario Ministry of Research and Innovation. She is currently a senior editor of the journal
Collabra: Psychology
and an associate editor of the
Journal of Abnormal Psychology
and
Advances in Methods and Practices in Psychological Science
.