New edition!
The Groundbreaking Clinical Guide and Text
More than 450,000 in print!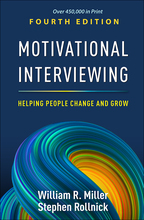 Create flyer
Motivational Interviewing
Fourth Edition
Helping People Change and Grow
Hardcover
e-book
print + e-book
Hardcover
August 21, 2023
ISBN 9781462552795
Price: $65.00
338 Pages
Size: 6" x 9"
order
e-book
July 24, 2023
Price: $65.00
338 Pages
order
print + e-book
Price: $130.00 $78.00
338 Pages
order
---
---
Read a Q&A
with featured author, Stephen Rollnick!
---
Sign up for
emails
on upcoming titles on Motivational Approaches (with special discounts)!
---
New to this edition:
Most of the book is entirely new.
Addresses the breadth of MI applications not only in counseling and psychotherapy, but also in health care, education, coaching, management, and other contexts.
Discusses delivering MI remotely, simple versus complex affirmations, strategic use of directional questions, ethical considerations, and other new or expanded topics.
Increased emphasis on using MI throughout a client's process of change and growth, not just in the preparatory stage.