Bestseller
More than 250,000 in print!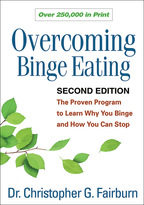 Create flyer
Overcoming Binge Eating
Second Edition
The Proven Program to Learn Why You Binge and How You Can Stop
Hardcover
Paperback
e-book
print + e-book
Hardcover
July 11, 2013
ISBN 9781462510443
Price: $57.00
243 Pages
Size: 6" x 9"
order
Paperback
July 12, 2013
ISBN 9781572305618
Price: $16.95
243 Pages
Size: 6" x 9"
order
---
Christopher G. Fairburn
, OBE, DM, FMedSci, FRCPsych, is Wellcome Principal Research Fellow and Professor of Psychiatry at the University of Oxford. He directs the Centre for Research on Eating Disorders at Oxford (CREDO). Dr. Fairburn is a research clinician who has won many awards, including the Aaron T. Beck Award from the Academy of Cognitive and Behavioral Therapies and the Outstanding Researcher Award from the Academy for Eating Disorders. He has a particular interest in the global dissemination of effective psychological treatments. His website is
www.credo-oxford.com.