Bestseller
More than 200,000 in print!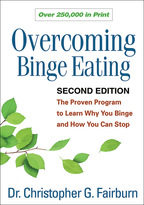 Create flyer
Overcoming Binge Eating
Second Edition
The Proven Program to Learn Why You Binge and How You Can Stop
Hardcover
Paperback
e-book
print + e-book
Hardcover
July 11, 2013
ISBN 9781462510443
Price: $57.00
243 Pages
Size: 6" x 9"
order
Paperback
July 12, 2013
ISBN 9781572305618
Price: $16.95
243 Pages
Size: 6" x 9"
order
---
"This book has proved invaluable to individuals who struggle with binge eating, and it has become a trusted tome on the shelf of many therapists, dietitians, and physicians who want to prescribe a non-invasive, evidence-based approach to treating their patients with an eating disorder….Although Fairburn himself still advocates for paper-and-pencil monitoring (p. 134), the self-help program presented in
Overcoming Binge Eating
could easily be used synergistically with new smartphone applications…that facilitate real-time tracking of food intake, thoughts, and feelings….Even if the dog-eared, highlighted original is still sitting on your office shelf, treating yourself to the second edition is well worth the modest price."

—Academy for Eating Disorders Forum
"By any standard, Dr. Fairburn is the leading authority in our field, so who better to write the definitive book on binge eating? This program is based on vast clinical experience, numerous clinical trials, and a breadth of perspective that few possess. You can trust this book. It is a landmark."

—Kelly D. Brownell, PhD, coauthor of Food Fight; Robert L. Flowers Professor of Public Policy and Professor of Psychology and Neuroscience, Duke University
"It is hard to improve a classic, but that is exactly what Dr. Fairburn has done.
Overcoming Binge Eating, Second Edition
, expands on the author's highly effective treatment. This self-help guide is filled with specific tools that can help reverse unhealthy habits that have trapped you for years. Dr. Fairburn helps you maintain regular eating habits, distract yourself from cravings, stop emotional eating, and address body image issues. My colleagues and I will be recommending this book to all of our clients who feel their eating is out of control."

—Robert L. Leahy, PhD, author of The Worry Cure
"This invaluable second edition incorporates recent advances in the treatment of binge eating, including new strategies for dealing with body image issues. I recommend this user-friendly book wholeheartedly."

—G. Terence Wilson, PhD, Oscar K. Buros Professor of Psychology, Rutgers, The State University of New Jersey
"In this gem of a book, now thoroughly revised, Dr. Fairburn draws on decades of clinical experience and research. This is a powerful resource for anyone who wants to achieve lasting self-change."

—Ruth H. Striegel, PhD, Editor-in-Chief, International Journal of Eating Disorders
"Readers have posted online calling the previous version of this book 'a godsend' and 'the best book out there.' This substantially revised second edition is as good as the first and sets the standard for self-help books. This clearly written, practical guide is invaluable for anyone suffering from binge eating problems."

—Roz Shafran, PhD, Institute of Child Health, University College London, United Kingdom
"This is the book that every patient and parent should read in order to understand what drives eating disorder behaviors. In this remarkable guide, Dr. Fairburn translates decades of research on therapy into steps for lasting change."

—Julie Lesser, MD, Medical Director, Center for the Treatment of Eating Disorders, Children's Hospitals and Clinics of Minnesota and Abbott Northwestern Hospital