Bestseller
More than 50,000 in print!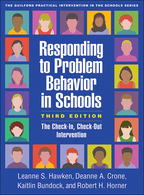 Create flyer
Responding to Problem Behavior in Schools
Third Edition
The Check-In, Check-Out Intervention
Hardcover
Paperback
e-book
print + e-book
Hardcover
November 27, 2020
ISBN 9781462546060
Price: $68.00
269 Pages
Size: 8" x 10½"
order
Paperback
November 27, 2020
ISBN 9781462539512
Price: $45.00
269 Pages
Size: 8" x 10½"
order
---
New to this edition:
Chapters on CICO in alternative educational settings and for students with internalizing behavior problems.
Content on using CICO for attendance issues, academic and organizational skills, and recess behavior problems.
Chapter on layering additional targeted interventions onto CICO.
Chapter with specific recommendations for training and coaching school teams.
Expanded chapters on frequently asked questions, implementation in high school, and culturally responsive practices.
Updated throughout with current data and evidence-based procedures.