New Edition of a Bestseller
More than 150,000 in print!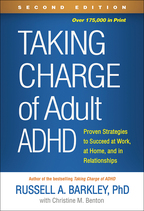 Create flyer
Taking Charge of Adult ADHD
Second Edition
Proven Strategies to Succeed at Work, at Home, and in Relationships
Hardcover
Paperback
e-book
print + e-book
Hardcover
November 3, 2021
ISBN 9781462547524
Price: $58.00
294 Pages
Size: 7" x 10"
order
Paperback
November 3, 2021
ISBN 9781462546855
Price: $17.95
294 Pages
Size: 7" x 10"
order
---
The ePub edition of this title is
Global Certified Accessible
to WCAG 2.0 AA standards.
---
---
Read a Q&A
with featured author, Russell A. Barkley!
---
Sign up for
emails
on upcoming titles by Russell A. Barkley (with special discounts)!
---
The
practical tools
can be downloaded and printed in PDF format.
---
Introduction
Step One. To Get Started, Get Evaluated
1. Is It Possible That You Have ADHD?
2. Can You Handle the Problem on Your Own?
3. Where Can You Go to Get Help?
4. What Do You Need for the Evaluation?
5. What Will the Evaluation Tell You?
Step Two. Change Your Mindset: Know and Own Your ADHD
6. Know Your ADHD
7. Resisting Impulses: The First Step in Self-Control
8. Self-Control: How to Get What You Want
9. Executive Functions: The Abilities That Make Up Self-Control…and More

10. The Nature of ADHD and How You Can Master It
11. Own Your ADHD
Step Three. Change Your Brain: Medications for Mastering ADHD
12. Why It Makes Sense to Try Medication
13. The Stimulants
14. The Nonstimulants
15. What to Expect from Treatment
Step Four. Change Your Life: Everyday Rules for Success
16. Rule 1: Stop the Action!
17. Rule 2: See the Past…and Then the Future
18. Rule 3: Say the Past…and Then the Future
19. Rule 4: Externalize Key Information
20. Rule 5: Feel the Future
21. Rule 6: Break It Down…and Make It Matter
22. Rule 7: Make Problems External, Physical, and Manual
23. Rule 8: Have a Sense of Humor!
Step Five. Change Your Situation: Mastering ADHD in Specific Areas of Your Life
24. Education
25. Work
26. Money
27. Relationships
28. Driving, Health, and Lifestyle Risks
29. Other Mental and Emotional Problems
30. Drugs and Crime
Appendix: A Closer Look at ADHD Symptoms
Resources
Index