New Edition of a Bestseller
More than 275,000 in print!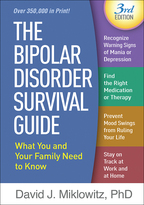 The Bipolar Disorder Survival Guide
Third Edition
What You and Your Family Need to Know
Hardcover
Paperback
e-book
print + e-book
Hardcover
January 11, 2019
ISBN 9781462537273
Price: $57.00 $48.45
420 Pages
Size: 7" x 10"
pre-order
Paperback
January 11, 2019
ISBN 9781462534982
Price: $21.95 $18.66
420 Pages
Size: 7" x 10"
pre-order
---
The new edition will be published January 11, 2019. If you need this title before then, please see the
previous edition
.
---
O
ver 275,000 bipolar sufferers and their loved ones have found the crucial information and support they need in this indispensable guide, now in a thoroughly updated third edition. Trusted authority David J. Miklowitz explains the nature and causes of bipolar illness and provides science-based strategies for coping with mood episodes, reducing recurrences, avoiding misdiagnosis, getting the most out of medications and psychotherapy, and making lifestyle changes to stay well. Readers love the easy-to-understand tone, vivid stories, practical tools, and problem-solving advice, including ways to strengthen relationships strained by the illness. Updated throughout, the third edition has a new chapter on kids and teens; the latest facts on medications and therapy, including important advances in personalized care; boxes on the pros and cons of complementary and alternative treatments; expanded coverage of the bipolar II subtype; and downloadable practical tools.