Bestseller
More than 350,000 in print!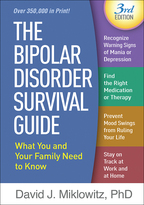 Create flyer
The Bipolar Disorder Survival Guide
Third Edition
What You and Your Family Need to Know
Hardcover
Paperback
e-book
print + e-book
Hardcover
February 21, 2019
ISBN 9781462537273
Price: $62.00
444 Pages
Size: 7" x 10"
order
Paperback
February 21, 2019
ISBN 9781462534982
Price: $21.95
444 Pages
Size: 7" x 10"
order
---
Sign up for
emails
on upcoming titles on Families & Couples (with special discounts)!
---
The
practical tools
can be downloaded and printed in PDF format.
---
B
ipolar disorder is a lifelong challenge—but it doesn't have to rule your life. Find the science-based information you need in the revised third edition of this indispensable guide. Trusted authority Dr. David J. Miklowitz shares proven strategies for managing your illness or supporting a loved one with the disorder. Learn specific steps to cope with mood episodes, reduce recurrences, avoid misdiagnosis, get the most out of treatment, resolve family conflicts, and make lifestyle changes to stay well. Updated throughout, the third edition has a new chapter on kids and teens; the latest facts on medications and therapy, including important advances in personalized care; and expanded coverage of the bipolar II subtype. It features boxes on complementary and alternative treatments and provides downloadable
practical tools
.