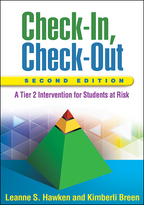 Check-In, Check-Out
Second Edition
A Tier 2 Intervention for Students at Risk
DVD
February 6, 2017
ISBN 9781462524587
Price: $65.00
27-minute DVD
order
Check out a special package offer including this title!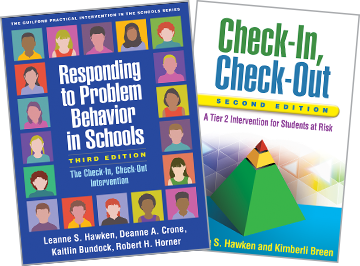 ---
Leanne S. Hawken
, PhD, BCBA, is Director of Content and Curriculum at Parent Playbook and Professor Emeritus in the Department of Special Education at the University of Utah. She is a recipient of the College of Education Research Award from the University of Utah. Her research focuses on positive behavior support, including schoolwide behavior support, targeted interventions for students at risk, and functional assessment/behavior support planning for students engaging in severe problem behavior. She frequently leads presentations and workshops on Check-In, Check-Out and positive behavior interventions and supports. In addition to over 20 book chapters and journal articles, she is coauthor of
Building Positive Behavior Support Systems in Schools, Second Edition
;
Responding to Problem Behavior in Schools
, Second Edition; and the training DVD
Check-In, Check-Out, Second Edition: A Tier 2 Intervention for Students at Risk
.
Kimberli Breen
, MS, CAS, MA, is a national educational consultant based in Chicago. She provides multi-tiered systems of support (MTSS) coordination, training, and coaching to state, district, and school leaders and implementers. Currently a Regional Facilitator Director for the University of Kansas SWIFT Center, she served as Technical Assistance Director for the Illinois Positive Behavior Interventions and Supports (PBIS) Network for eight years. She has also directed training and technical assistance for the New York statewide PBIS initiative. Starting as a school counselor on Molokai, Hawaii, and then becoming a school psychologist, she has implemented and coached PBS in a variety of settings, including residential facilities, community-based organizations, and at home with her son, who has autism. Her focus areas include family partnerships and diversity.