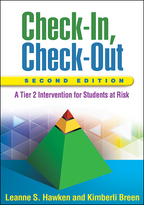 Check-In, Check-Out
Second Edition
A Tier 2 Intervention for Students at Risk
DVD
February 6, 2017
ISBN 9781462524587
Price: $65.00
27-Minute DVD + Special Features
order
---
New to this edition:
Broader grade range: now includes high school examples.
Summarizes the CICO research base and integrates lessons learned from over 16 years of implementation.
Chapters on modifying CICO for attendance issues, internalizing behaviors, and individualized intervention.
Spanish-language chapter introducing CICO to parents.
Expanded FAQ chapter.
Several new and updated reproducible tools.