Bestseller
More than 100,000 in print!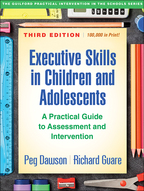 Create flyer
Executive Skills in Children and Adolescents
Third Edition
A Practical Guide to Assessment and Intervention
Hardcover
A Paperback Original
e-book
print + e-book
Hardcover
June 13, 2018
ISBN 9781462548217
Price: $68.00
332 Pages
Size: 8" x 10½"
order
A Paperback Original
June 13, 2018
ISBN 9781462535316
Price: $45.00
332 Pages
Size: 8" x 10½"
order
---
Read a Q&A
with featured author, Richard Guare!
---
Sign up to receive
emails
on upcoming titles by Drs. Dawson and Guare (with special discounts)!
---
The
reproducible materials
can be downloaded and printed in PDF format.
---
New to this edition:
Chapter with guidance and caveats for developing individual education programs (IEPs), 504 Plans, and multi-tiered systems of support (MTSS).
Chapters on working with students with attention-deficit/hyperactivity disorder (ADHD) and autism spectrum disorder.
Three guest-authored chapters describing exemplary schoolwide applications.
More student centered—provides a template for involving children in intervention decision making.
Fully updated with the latest developments in the field.