Handbook of Assessment and Treatment Planning for Psychological Disorders
Third Edition
Hardcover
Paperback
e-book
print + e-book
Hardcover
August 18, 2020
ISBN 9781462543533
Price: $120.00 $90.00
638 Pages
Size: 7" x 10"
order
Paperback
August 18, 2020
ISBN 9781462544882
Price: $60.00 $45.00
638 Pages
Size: 7" x 10"
order
Check out a special package offer including this title!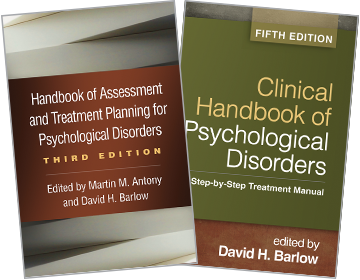 ---
Martin M. Antony
, PhD, ABPP, is Professor of Psychology at Ryerson University in Toronto, Ontario, Canada. He was founding director of the Anxiety Treatment and Research Clinic and the Psychology Residency Program at St. Joseph's Healthcare Hamilton. The recipient of career awards from the Society of Clinical Psychology, the Canadian Psychological Association (CPA), and the Anxiety and Depression Association of America, Dr. Antony is a Fellow of the Royal Society of Canada and has served as president of the CPA and the Association for Behavioral and Cognitive Therapies. He has published over 30 books and 275 scientific articles and book chapters on cognitive-behavioral therapy, psychological assessment, anxiety disorders, obsessive–compulsive disorder, and perfectionism.
David H. Barlow
, PhD, ABPP, is Professor Emeritus of Psychology and Psychiatry and Founder and Director Emeritus of the Center for Anxiety and Related Disorders at Boston University. Dr. Barlow has published over 600 articles and chapters and over 80 books and clinical manuals, mostly on the nature and treatment of emotional disorders and clinical research methodology. His books and manuals have been translated into more than 20 languages. His numerous awards and citations include psychology's two highest honors: the Distinguished Scientific Award for the Applications of Psychology from the American Psychological Association and the James McKeen Cattell Fellow Award from the Association for Psychological Science.