Handbook of Assessment and Treatment Planning for Psychological Disorders
Third Edition
Hardcover
Paperback
e-book
print + e-book
Hardcover
August 18, 2020
ISBN 9781462543533
Price: $120.00 $90.00
638 Pages
Size: 7" x 10"
order
Paperback
August 18, 2020
ISBN 9781462544882
Price: $60.00 $45.00
638 Pages
Size: 7" x 10"
order
Check out a special package offer including this title!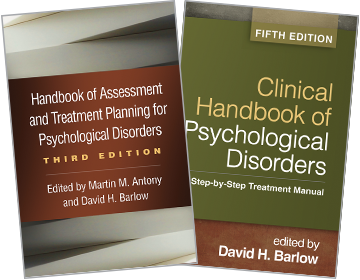 ---
New to this edition:
Chapters on new topics: assessment of well-being and transdiagnostic assessment.
New chapters on core topics: eating disorders, personality disorders, and insomnia.
Updated throughout with DSM-5 diagnostic changes, new and updated instruments, current research, and increased attention to transdiagnostic concerns.
Expanded coverage of obsessive–compulsive and related disorders.