Bestselling Clinical Guide and Text
More than 150,000 in print!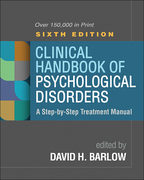 Create flyer
Clinical Handbook of Psychological Disorders
Sixth Edition
A Step-by-Step Treatment Manual
Hardcover
e-book
print + e-book
Hardcover
August 11, 2021
ISBN 9781462547043
Price: $95.00
822 Pages
Size: 7⅜" x 9¼"
order
---
N
ow in a revised and expanded sixth edition, this is the leading text on evidence-based treatments for frequently encountered mental health problems. David H. Barlow has assembled preeminent experts to present their respective approaches in step-by-step detail, including extended case examples. Each chapter provides state-of-the-art information on the disorder at hand, explains the conceptual and empirical bases of intervention, and addresses the most pressing question asked by students and practitioners—"How do I do it?" Concise chapter introductions from Barlow highlight the unique features of each treatment and enhance the book's utility for teaching and training.
New to This Edition
Existing chapters thoroughly revised to incorporate the latest empirical findings and clinical practices.
Chapter on "process-based therapy," a new third-wave approach for social anxiety.
Chapter on transdiagnostic treatment of self-injurious thoughts and behaviors.
Chapter on chronic pain.