Bestseller
More than 150,000 in print!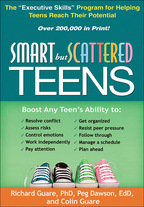 Smart but Scattered Teens
The "Executive Skills" Program for Helping Teens Reach Their Potential
Hardcover
Paperback
e-book
print + e-book
Hardcover
December 16, 2012
ISBN 9781462506996
Price: $58.00 $43.50
293 Pages
Size: 7" x 10"
order
Paperback
December 17, 2012
ISBN 9781609182298
Price: $17.95 $13.46
293 Pages
Size: 7" x 10"
order
---
Read a Q & A
with featured author, Richard Guare!
---
Sign up to receive
e-alerts
on upcoming titles by Drs. Dawson and Guare (with special discounts)!
---
"The book's 'executive skills' are the critical tools needed to solve problems, manage time, and perform tasks. As many parents know, tweens and teens often lack these abilities....A very helpful addition to parenting shelves."

—Library Journal
"An easy-to-read, well-documented, and well-resourced book that, if utilized, would surely better both the relationship between any teen and their parents and also assist the teen in developing better executive function skills….It is a book that can be recommended to parents by professionals working with teenagers….Guilford is to be commended for offering this book at such reasonable pricing. Hopefully it will increase the utility and desire on many parents' parts to purchase this book so that it can help their families and their teenagers."

—Child and Family Behavior Therapy
"An absolute 'must read' for parents. Many detailed examples show you exactly how to teach your teenager the skills needed for success in school and beyond. The clever strategies for getting around teens' creative resistance to making changes are particularly helpful. I will recommend this gem of a book to all of the parents and adolescents I treat."

—Arthur L. Robin, PhD, coauthor of Your Defiant Teen
"Executive skills are critical to success in life, but may be delayed in some teens and young adults—and parents are often at a loss for how to help.
Smart but Scattered Teens
is just what parents need. This is a highly useful guide for improving teens' executive skills and motivating them to use the skills they already have."

—Patricia O. Quinn, MD, coauthor of Ready for Take-Off: Preparing Your Teen with ADHD or LD for College
"Does your teen's behavior have you tearing out your hair in frustration? Quit nagging and use this wonderfully insightful and practical book to coach your 'smart but scattered' teen for personal, educational, and social success."

—William Pfohl, PsyD, past president, International School Psychology Association
"I was hooked from the first chapter! This book has opened my eyes to ways to foster my son's strengths, not just criticize his weaknesses. With all the issues we battle daily, it's easy to forget the power of the positive. I'm thrilled to have a specific plan of action for targeting the skills my son needs to do better in school and become more focused and responsible."

—Kim L.