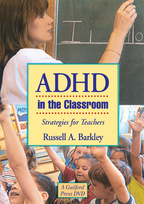 ADHD in the Classroom
Strategies for Teachers
DVD
October 24, 2006
ISBN 9781593854188
Price: $110.00
42 Pages
36-Minute DVD + 42-Page Manual + Leader's Guide
order
---
Read a Q&A
with featured author, Russell A. Barkley!
---
Sign up for
emails
on upcoming titles by Russell A. Barkley (with special discounts)!
---
F
rom leading authority Dr. Russell Barkley,
ADHD in the Classroom
is designed to help teachers create a learning environment that is responsive to the needs of all students, including those with ADHD. Scenes from an actual classroom illustrate problems that teachers typically encounter and bring effective solutions to life. Viewers see firsthand how to incorporate social skills into the curriculum and how to implement such behavior management methods as color charts and signs, point system, token economy, and turtle-control technique. The video also features helpful graphics, interviews with teachers and other education experts, and informative commentary from Dr. Barkley. Running time: 36 minutes; includes 42-page manual plus leader's guide.