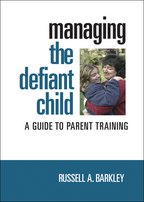 Managing the Defiant Child
A Guide to Parent Training
DVD
October 24, 2006
ISBN 9781593854201
Price: $110.00
32 Pages
34-Minute DVD + 32-Page Manual
order
---
Read a Q&A
with featured author, Russell A. Barkley!
---
Sign up for
emails
on upcoming titles by Russell A. Barkley (with special discounts)!
---
C
hildhood defiance is the most common complaint of parents seeking professional help for their children. From Oppositional Defiant Disorder (ODD) expert Russell A. Barkley, this informative video brings to life a proven approach to behavior management. The program includes vignettes from actual parent training sessions led by Dr. Gwen Edwards. Viewers gain a clear picture of:
Specific steps that can improve the parent-child relationship
Why interactions with kids are a "two-way street"
Effective incentive systems for motivating children
How parent training works for ODD
Running time: 34 minutes; includes 32-page manual.