More than 40,000 in print!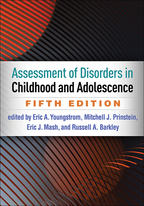 Create flyer
Assessment of Disorders in Childhood and Adolescence
Fifth Edition
Hardcover
Paperback
e-book
print + e-book
Hardcover
August 27, 2020
ISBN 9781462543632
Price: $119.00
730 Pages
Size: 7" x 10"
order
Paperback
April 11, 2022
ISBN 9781462550289
Price: $59.00
730 Pages
Size: 7" x 10"
order
Check out a special package offer including this title!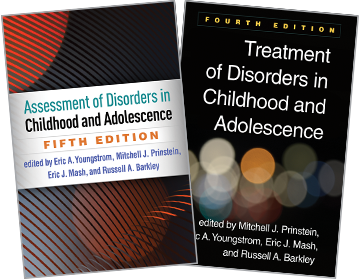 ---
Read a Q&A
with featured author, Russell A. Barkley!
---
Sign up for
emails
on upcoming titles by Russell A. Barkley (with special discounts)!
---
New to this edition:
Many new authors and topics, reflecting over a decade of research and clinical advances.
Updated for DSM-5 and ICD-11.
Chapters on additional disorders: obsessive–compulsive disorder, persistent complex bereavement, and body dysmorphic disorder.
Chapters on transdiagnostic concerns: sleep problems, risky behaviors, and life stressors.
Four chapters on the "whys" and "hows" of using assessment in each phase of treatment.
Disorder-specific "starter kits"—lists of essential checklists, rating scales, interviews, and progress measures, including links to exemplary free measures online.