New Edition of a Bestseller
More than 125,000 in print!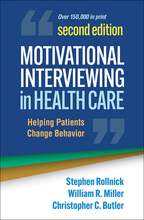 Create flyer
Motivational Interviewing in Health Care
Second Edition
Helping Patients Change Behavior
Hardcover
Paperback
e-book
print + e-book
Hardcover
September 5, 2022
ISBN 9781462550388
Price: $53.00
216 Pages
Size: 6" x 9"
order
Paperback
September 23, 2022
ISBN 9781462550371
Price: $35.00
216 Pages
Size: 6" x 9"
order
---
---
The ePub edition of this title is
Global Certified Accessible
to WCAG 2.0 AA standards.
---
Read a Q&A
with featured author, Stephen Rollnick!
---
Sign up for
emails
on upcoming titles on Motivational Approaches (with special discounts)!
---
New to this edition:
Most of the book is entirely new.
Restructured around the current four-process model of MI (engaging, focusing, evoking, and planning).
Incorporates lessons learned from the authors' ongoing clinical practice and practitioner training workshops.
Chapters on advice-giving, brief consultations, merging MI with assessment, MI in groups, and making telehealth consultations more effective.
Additional practical features—extended case examples, "Try This" activities, and boxed reflections from practitioners in a range of contexts.