New Edition of a Bestseller
More than 95,000 in print!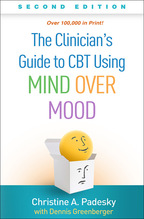 The Clinician's Guide to CBT Using Mind Over Mood
Second Edition
Hardcover
Paperback
e-book
print + e-book
Hardcover
April 6, 2020
ISBN 9781462542581
Price: $95.00 $80.75
488 Pages
Size: 7" x 10"
pre-order
Paperback
April 6, 2020
ISBN 9781462542574
Price: $40.00 $34.00
488 Pages
Size: 7" x 10"
pre-order
Check out a special package offer including this title!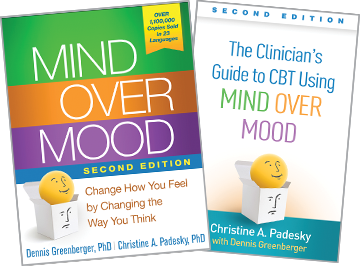 ---
Instructors:
Sign up
to receive information (when available) on a free webinar being developed by Dr. Padesky! The topic is effective ways to use this book in CBT courses, together with
Mind Over Mood, Second Edition
.
---
New to this edition:
Detailed instructions on how, when, and why to use each of MOM2's 60 worksheets.
Expanded coverage of effective use of thought records, behavioral experiments, and imagery.
Shows how to flexibly tailor MOM2 to address particular anxiety disorders, using distinct principles and protocols.
Incorporates evidence-based practices from positive psychology, motivational interviewing, and acceptance and commitment therapy.
Updated practice guidelines throughout, based on current clinical research.
More content on using MOM2 for therapist self-study and in training programs and classrooms.