New Edition of a Bestseller
More than 95,000 in print!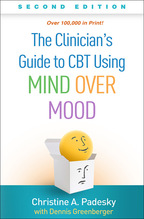 The Clinician's Guide to CBT Using Mind Over Mood
Second Edition
Hardcover
Paperback
e-book
print + e-book
Hardcover
April 6, 2020
ISBN 9781462542581
Price: $95.00 $80.75
488 Pages
Size: 7" x 10"
pre-order
Paperback
April 6, 2020
ISBN 9781462542574
Price: $40.00 $34.00
488 Pages
Size: 7" x 10"
pre-order
Check out a special package offer including this title!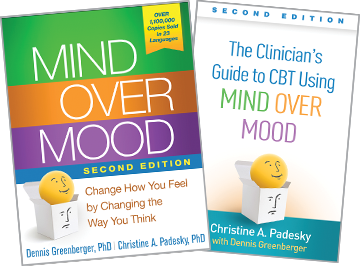 ---
Instructors:
Sign up
to receive information (when available) on a free webinar being developed by Dr. Padesky! The topic is effective ways to use this book in CBT courses, together with
Mind Over Mood, Second Edition
.
---
"This important book builds on the classic first edition. Clinicians who want to apply Beck's cognitive therapy model while their clients are using
Mind Over Mood
will find a seamless, user-friendly roadmap for helping clients overcome their difficulties. Packed with client–therapist dialogues and powerful tools, this guide will prove to be a popular manual for adhering to the CBT model. Highly recommended."

—Robert L. Leahy, PhD, Department of Psychiatry, Weill Cornell Medical College; Director, American Institute for Cognitive Therapy
"
Mind Over Mood
is perhaps the best self-help manual in the field today, making the second edition of
The Clinician's Guide
invaluable. I will use both books together in working with my clients and teaching clinical trainees, and strongly recommend that others do the same."

—Steven D. Hollon, PhD, Gertrude Conaway Vanderbilt Professor of Psychology, Vanderbilt University
"Padesky scores really big with the second edition of
The Clinician's Guide.
Each chapter contains an informative description of how to conduct CBT, including ways to collaboratively problem solve with clients when things are not going as planned. Those who liked the first edition will simply love this book, and new readers are in for a real treat! This is a book that belongs in all graduate training programs and should be in the hands of clinicians who work with a wide variety of individuals, couples, and groups. A most welcome volume!"

—Thomas H. Ollendick, PhD, University Distinguished Professor, Department of Psychology, Virginia Tech
"
Mind over Mood
is one of the most widely used tools to help clients deepen the learning that occurs in therapy sessions. This outstanding therapist guide shows clinicians how to ensure their clients get the most out of
Mind over Mood.
It is also a brilliant, clear, sensitive, and perceptive guide to core CBT interventions."

—David M. Clark, CBE, FBA, FMedSci, FAcSS, Professor and Chair of Experimental Psychology, University of Oxford, United Kingdom
"
The Clinician's Guide
fills the gap between learning cognitive therapy strategies and building skills for how and when to use them. With multiple nuanced case illustrations, this book provides invaluable information on how to practice, teach, and supervise others in CBT. Like
MOM2,
the second edition of
The Clinician's Guide
incorporates more behavioral and acceptance skills. It empowers clinicians not simply to reduce clients' maladaptive thoughts and behaviors, but also to help them cultivate positive emotions, thoughts, and actions, and harness their natural strengths."

—Lata K. McGinn, PhD, Ferkauf Graduate School of Psychology, Yeshiva University
"Reading this book is similar to sitting in a consultation room with the most seasoned therapists so they can help to navigate the often turbulent waters of treating clients with difficult problems. The second edition has been significantly expanded to include state-of-the-art practice guidelines, theoretical developments, enhanced troubleshooting guides, decision trees, and other tools that make it an essential resource for both students and experienced professionals. The revised case examples are outstanding and offer strategies for some of the most challenging situations that clinicians are likely to encounter. I will turn to this book frequently in my clinical practice. I highly recommend it to anyone serious about achieving excellent outcomes in therapy."

—Frank M. Dattilio, PhD, ABPP, Department of Psychiatry, Harvard Medical School