Bestselling Clinical Guide and Text
More than 150,000 in print!
Clinical Handbook of Psychological Disorders
Fifth Edition
A Step-by-Step Treatment Manual
Hardcover
e-book
print + e-book
Hardcover
March 7, 2014
ISBN 9781462513260
Price: $92.00 $69.00
768 Pages
Size: 7⅜" x 9¼"
order
Check out a special package offer including this title!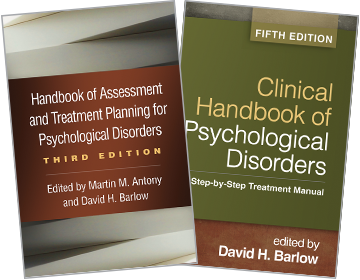 ---
New to this edition:
Incorporates treatment innovations, the latest empirical findings, and changes to diagnostic criteria in DSM-5.
Chapter on acceptance-based treatment of generalized anxiety disorder.
Chapter on comorbid depression and substance abuse, demonstrating a transdiagnostic approach.
Chapter on sleep disorders.