Bestselling Clinical Guide and Text
More than 150,000 in print!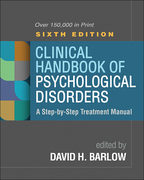 Create flyer
Clinical Handbook of Psychological Disorders
Sixth Edition
A Step-by-Step Treatment Manual
Hardcover
e-book
print + e-book
Hardcover
August 11, 2021
ISBN 9781462547043
Price: $95.00
822 Pages
Size: 7⅜" x 9¼"
order
---
David H. Barlow
, PhD, ABPP, is Professor Emeritus of Psychology and Psychiatry and Founder and Director Emeritus of the Center for Anxiety and Related Disorders at Boston University. Dr. Barlow has published over 650 articles and chapters and over 90 books and clinical manuals, primarily on the nature and treatment of emotional disorders and clinical research methodology. His books and manuals have been translated into more than 20 languages. Dr. Barlow's numerous awards and citations include psychology's three highest honors: the Distinguished Scientific Award for the Applications of Psychology from the American Psychological Association, the James McKeen Cattell Fellow Award from the Association for Psychological Science, and the Gold Medal Award for Life Achievement in the Practice of Psychology from the American Psychological Foundation.