New Edition of a Bestselling Clinical Guide and Text
More than 150,000 in print!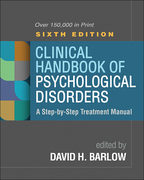 Clinical Handbook of Psychological Disorders
Sixth Edition
A Step-by-Step Treatment Manual
Hardcover
e-book
print + e-book
Hardcover
July 30, 2021
ISBN 9781462547043
Price: $85.00 $63.75
822 Pages
Size: 7⅜" x 9¼"
pre-order
Professors: Free copies available for adoption consideration
---
The new edition will be published July 30, 2021. If you need this title before then, please see the
previous edition
.
---
Professors: Do you need to make an adoption decision or update your syllabus for the next term?
Request a set of page proofs
now for immediate review.
---
Idan M. Aderka, PhD,
Department of Psychology, University of Haifa, Haifa, Israel
David H. Barlow, PhD, ABPP,
Center for Anxiety and Related Disorders, Boston University, Boston, Massachusetts
Aaron T. Beck, MD,
University of Pennsylvania Perelman School of Medicine and Beck Institute for Cognitive Behavior Therapy, Philadelphia, Pennsylvania
Kate H. Bentley, PhD,
Department of Psychiatry, Massachusetts General Hospital/Harvard Medical School, Boston, Massachusetts
Katherine Berry, PhD,
Division of Psychology and Mental Health, University of Manchester, Manchester, United Kingdom
Kathryn L. Bleiberg, PhD,
Department of Psychology, Weill Cornell Medicine, New York, New York
Kathleen M. Chard, PhD,
Cincinnati Veteran Affairs Medical Center, Cincinnati, Ohio
Andrew Christensen, PhD,
Department of Psychology, University of California, Los Angeles, Los Angeles, California
Zafra Cooper, DPhil,
Department of Psychiatry, Yale School of Medicine, New Haven, Connecticut
Michelle G. Craske, PhD,
Department of Psychology and Department of Psychiatry and Biobehavioral Sciences, University of California, Los Angeles, Los Angeles, California
Sona Dimidjian, PhD,
Renée Crown Wellness Institute and Department of Psychology and Neuroscience, University of Colorado Boulder, Boulder, Colorado
Brian D. Doss, PhD,
Department of Psychology, University of Miami, Coral Gables, Florida
Kristen K. Ellard, PhD,
Department of Psychiatry, Massachusetts General Hospital/Harvard Medical School, Boston, Massachusetts
Elizabeth E. Epstein, PhD,
Department of Psychiatry, University of Massachusetts Medical School, Worcester, Massachusetts
Elizabeth H. Eustis, PhD,
Center for Anxiety and Related Disorders, Boston University, Boston, Massachusetts
Todd J. Farchione, PhD,
Center for Anxiety and Related Disorders, Boston University, Boston, Massachusetts
Edna B. Foa, PhD,
Center for the Treatment and Study of Anxiety, University of Pennsylvania Perelman School of Medicine, Philadelphia, Pennsylvania
Martin E. Franklin, PhD,
Rogers Behavioral Health, Philadelphia, Pennsylvania
Allison G. Harvey, PhD,
Department of Psychology, University of California, Berkeley, Berkeley, California
Sarah H. Heil, PhD,
Vermont Center on Behavior and Health and Departments of Psychiatry and Psychological Science, University of Vermont, Burlington, Vermont
Ruth Herman-Dunn, PhD,
private practice and Department of Psychology, University of Washington, Seattle, Washington
Stephen T. Higgins, PhD,
Vermont Center on Behavior and Health and Departments of Psychiatry and Psychological Science, University of Vermont, Burlington, Vermont
Stefan G. Hofmann, PhD,
Center for Anxiety and Related Disorders, Boston University, Boston, Massachusetts
Samuel Hubley, PhD,
Renée CrownWellness Institute and Department of Psychology and Neuroscience, University of Colorado Boulder, Boulder, Colorado
Neil S. Jacobson, PhD (deceased),
formerly of Department of Psychology, University of Washington, Seattle, Washington
Katherine A. Kaplan, PhD,
Department of Psychiatry and Behavioral Sciences, Stanford University School of Medicine, Stanford, California
Marsha M. Linehan, PhD, ABPP,
Department of Psychology, University of Washington, Seattle, Washington
Joseph S. Maimone, BA,
Department of Psychology, Harvard University and Massachusetts General Hospital/Harvard Medical School, Cambridge, Massachusetts
John C. Markowitz, MD,
Department of Psychiatry, Columbia University Vagelos College of Physicians and Surgeons, New York State Psychiatric Institute, New York, New York
Christopher R. Martell, PhD,
Department of Psychological and Brain Sciences, University of Massachusetts Amherst, Amherst, Massachusetts
Barbara S. McCrady, PhD,
Center on Alcohol, Substance use, and Addictions (CASAA) and Department of Psychology, The University of New Mexico, Albuquerque, Albuquerque, New Mexico
David J. Miklowitz, PhD,
Max Gray Child and Adolescent Mood Disorders Program, Division of Child and Adolescent Psychiatry, Semel Institute for Neuroscience and Human Behavior, University of California, Los Angeles, Los Angeles, California
Candice M. Monson, PhD,
Department of Psychology, Ryerson University, Toronto, Ontario, Canada
Rebecca Murphy, DClinPsych,
Department of Psychiatry, University of Oxford, Oxford, United Kingdom
Andrada D. Neacsiu, PhD,
Cognitive Behavioral Research and Therapy Program, Department of Psychiatry and Behavioral Sciences, and Department of Family Medicine, Duke University Medical Center, Durham, North Carolina
Matthew K. Nock, PhD,
Department of Psychology, Harvard University, Cambridge, Massachusetts
K. Maria Nylocks, PhD,
Emory Healthcare Veterans Program, Emory University School of Medicine, Atlanta, Georgia
Susan M. Orsillo, PhD,
Department of Psychology, Suffolk University, Boston, Massachusetts
John D. Otis, PhD,
Center for Anxiety and Related Disorders, Boston University, Boston, Massachusetts
Laura A. Payne, PhD,
Department of Psychiatry, McLean Hospital/Harvard Medical School, Belmont, Massachusetts
Kelly R. Peck, PhD,
Vermont Center on Behavior and Health and Departments of Psychiatry and Psychological Science, University of Vermont, Burlington, Vermont
Lizabeth Roemer, PhD,
Department of Psychology, University of Massachusetts-Boston, Boston, Massachusetts
Jayne L. Rygh, PhD,
private practice, New York, New York
Philippe Shnaider, PhD,
Department of Psychiatry and Behavioral Neurosciences, McMaster University, Hamilton, Ontario, Canada
Nicholas Tarrier, PhD, FBPsS, FBA,
Emeritus Professor, Department of Psychology, University of Manchester, Manchester, United Kingdom
Erin F. Ward-Ciesielski, PhD,
Center for Anxiety and Related Disorders, Boston University, Boston, Massachusetts
Arthur D. Weinberger, PhD,
formerly of Cognitive Therapy Center of New York, New York, New York
Jennifer G. Wheeler, PhD,
Pacific Evaluation, Consultation, and Treatment Services, PLLC, Seattle, Washington
Kate Wolitzky-Taylor, PhD,
Department of Psychiatry and Biobehavioral Sciences, University of California, Los Angeles, Los Angeles, California
Jeffrey E. Young, PhD,
Schema Therapy Institute, New York, New York
Noga Zerubavel, PhD,
Department of Psychiatry and Behavioral Sciences, Duke University Medical Center, Durham, North Carolina