Bestselling Clinical Guide and Text
More than 150,000 in print!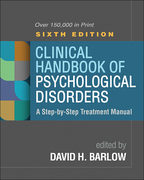 Create flyer
Clinical Handbook of Psychological Disorders
Sixth Edition
A Step-by-Step Treatment Manual
Hardcover
e-book
print + e-book
Hardcover
August 11, 2021
ISBN 9781462547043
Price: $95.00
822 Pages
Size: 7⅜" x 9¼"
order
---
New to this edition:
Existing chapters thoroughly revised to incorporate the latest empirical findings and clinical practices.
Chapter on "process-based therapy," a new third-wave approach for social anxiety.
Chapter on transdiagnostic treatment of self-injurious thoughts and behaviors.
Chapter on chronic pain.